At Our Lady of Sorrows Catholic School, we strive to create an inclusive learning community rooted in the love of Christ. We educate students to grow in grace and knowledge and to lead lives that demonstrate our beliefs. We strive to transform the world through witness, faith, innovation and action.
We believe in the worth and dignity of every person, in the critical role that our Catholic schools play in promoting Gospel values, social justice, environmental responsibility, human solidarity and the common good. We believe that high standards and expectations foster greater achievement, that people thrive in a safe, healthy and compassionate environment, and that teaching needs to be responsive to the individual needs of children. Teaching and learning should be rooted in research and evidence, and each of us shares responsibility for creating collaborative communities of learning. We believe that 21st century fluencies of digital literacy, creativity, innovation and collaboration are essential.
School History and Tradition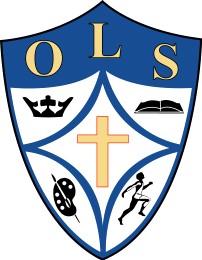 In 1940, the parish of Our Lady of Sorrows was established by Father Gregory Kelly. The first mass was celebrated in the new church on December 22, 1940. Following the tradition of all Catholic churches, the feast day for the parish is September 15, the Feast of Our Lady of Sorrows.
The physical school building was opened for occupancy on a 4.5-acre site in November 1942. The original school was designed as a one storey brick building of 4,800 square feet. The building contained four classrooms and a small auditorium.
Since the building was not ready until November, classes for that school year, 1942, began in the basement of the church. Enrolment on that September 8 was 84 students. The first principal of the school was a Sister of St. Joseph, Sister Leona. Staff working with her were Sister Mary Elizabeth and Miss Rose Cassin. The St. Joseph Sisters actually lived in a small farmhouse which was located just to the north of the school.
Additions to the original building were made in 1949, 1963, and 1968. Enrolment in the school continued to climb over the years. In June, 1992, Our Lady of Sorrows School celebrated its Fiftieth Anniversary as a school. As the Fiftieth Anniversary was being celebrated, plans were well underway to build a new school as a part of a joint venture with the City of Toronto which was working toward the completion of a newly designed recreation centre and a renovated swimming pool, Memorial Pool. In September 2002, students, families, and staff were able to enter the very impressive new building of Our Lady of Sorrows Catholic School.
History has provided our community with a proud tradition of Catholic education. Our challenge is to ensure that those same Catholic traditions and customs not only survive but flourish in our 'state of the art' new building. It is our distinct hope that those treasured Catholic values are evident in all that we do in the daily activities in Our Lady of Sorrows Catholic School.