At St. Agnes Catholic School, we pride ourselves on the strong partnership that exists among the home, the school and the parish.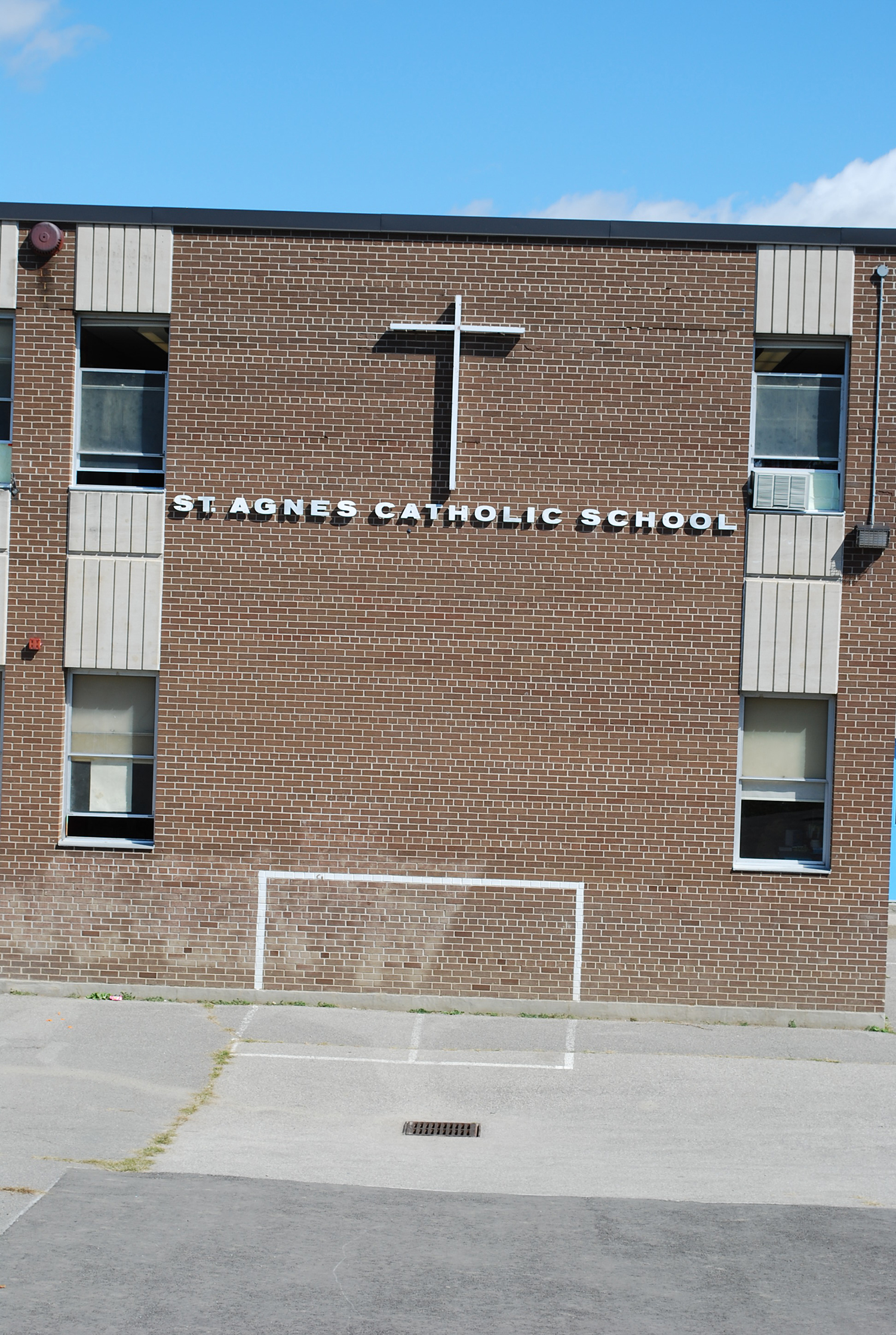 By word and deed, the Catholic community of St. Agnes strives to foster the Gospel values of compassion and love, of dignity and uniqueness of each individual, and of family as the foundation of our community. By faith and prayer, we seek to create a rich Christian environment for the full development of each individual. With the example of St. Agnes as our patron saint of our school, we ask God to give us courage to do the right thing.
How Do We Meet the Diversified Needs of Our Students
At St. Agnes, we believe in the uniqueness of every child. We recognize that children have individual talents and their own special needs. We strive to assist the students to "be the best they can be" growing in Christian values, self-esteem and respect for themselves and others.
The catechetical program, as approved by the Canadian Conference of Catholic Bishops, is the foundation for the instructional program in religious education. Among a variety of strategies employed to ensure a Catholic environment, we practice the spiritual and corporal works of mercy. Acts of charity such as participation in food drives, the ShareLife campaign, supporting families in need and assisting seniors, are encouraged as gestures of Gospel values at work. Through the chill out program, our grades 2 and 3 class helped to collect warm clothing to give to the needy. As part of their confirmation commitment, our grade 8 students are involved in an extensive program of service and fundraising for the seniors of North York Hospital. To further religious growth, they also participate in a day of reflection (as does staff on other occasions). These efforts are essential for reinforcing with the students that we are a people called by the Gospel to make a difference in the world.
Fostering a safe and welcoming learning environment that is an example of Christian community, is a vital part of the Mission Statement of the Toronto Catholic District School Board (TCDSB). Daily attendance monitoring is one example of this mission in action. Through cooperative parent-school communications, parents advise the school if their child will be absent, and school staff monitor attendance pattern and alert the family of their observations. Within the school, every effort is made to attend to the health and safety of the students. We appreciate parents notifying us of health conditions which may affect their child at school. We also strive to keep parents and guardians informed of issues and situations which impact on their child's health and safety. It is our hope and desire that all families feel welcome when entering the school. We are pleased to provide information about our school and community, to make introductions and to maintain collaborative communications.
As part of our resolve at St. Agnes to enhance technological education and computer literacy, there has been ongoing staff in-service, the acquisition of new equipment and increased emphasis on computer skills. To help meet the needs of individual students, teachers modify programs within the regular class, consult with other staff and meet with resource personnel assigned to the school. Special programs support students with particular needs.
Last year, our grade 8 students enjoyed a one-week excursion to Mansfield Outdoor Education Centre. Special activities include skating, skiing, tobogganing, nature studies and ecology lessons. For those with artistic inclinations, there are art classes, musicals, drama and the choir. House leagues offer good fun, sportsmanship and friendly competition. We have school teams for both boys and girls in soccer, volleyball and basketball. Track and field is a yearly event. St. Agnes Catholic School's enrollment has consistently increased over the past five years.
Our School History and Tradition
St. Agnes Catholic School is a small school located in the middle of a residential area in North York. The building, completed in 1971, houses nine classrooms on two floors, with a number of staircases and different levels, given the sloping nature of the land. The surrounding property is large and affords the students many opportunities for play and physical education. It backs onto Brebeuf College School, located on Steeles Avenue.
After many years as an open area school, St. Agnes was redesigned in 1989 to accommodate closed classrooms. The neighbourhood is comprised of mostly large, detached dwellings with very little business or retail in the area.
Located near the boundary of Metropolitan Toronto and York Region, we enroll a number of student from outside our area because of our excellent academic reputation.
St. Agnes Catholic School celebrated its 25th anniversary in 1995. The patron saint of our school is St. Agnes, who lived in Rome in the 3rd century during the time when early Christians were being persecuted. Agnes was only 12 years old when she was martyred for her faith, courage and purity. The name Agnes means lamb and she is often pictured with a lamb as a symbol of her innocence. Her feast day is January 21st.