St. Anthony Catholic School is a warm, welcoming and safe community facility that is steeped in respect, dignity, empathy and compassion. Our staff members care deeply about each student and about their accomplishments and growth. St. Anthony is a learning community where all members encourage and exhibit a love of learning.
We work very closely with the St. Anthony parish community. Our students are prepared for the sacraments of First Holy Communion, Reconciliation, and Confirmation. We celebrate monthly masses at St. Anthony church and have regular visits from Father Martinez and his associates. Monthly virtues (hospitality, gratitude, peacemaking, charity, courage, love, forgiveness, justice, compassion, faithfulness) are discussed and integrated into all aspects of school life.
The emphasis on academics and continuous improvement at St. Anthony offers a vast array of activities and programs which serve the diverse needs of our community. We offer an extensive co-curricular schedule featuring a variety of school sports, leadership opportunities at various grade levels, chess, choir and student mentoring.
We offer a five day Nutrition program which not only provides students with nutritious morning snack, it also educates our students on the importance of healthy living habits.
Our school has adopted an Appropriate Dress Code. All students must come to school dressed in any combination of white and navy blue garments (i.e. plain white top, navy blue bottom, navy blue top and bottom, no denim).
St. Anthony has also established many community partnerships which strengthen both our students and programs. We work closely with the Dovercourt Boys' and Girls' club which offers varied after school programming. We regularly host co-op students from our neighbouring high schools and student teachers from university Faculty of Education programs. We also have many volunteers who assist our classroom teachers in many capacities.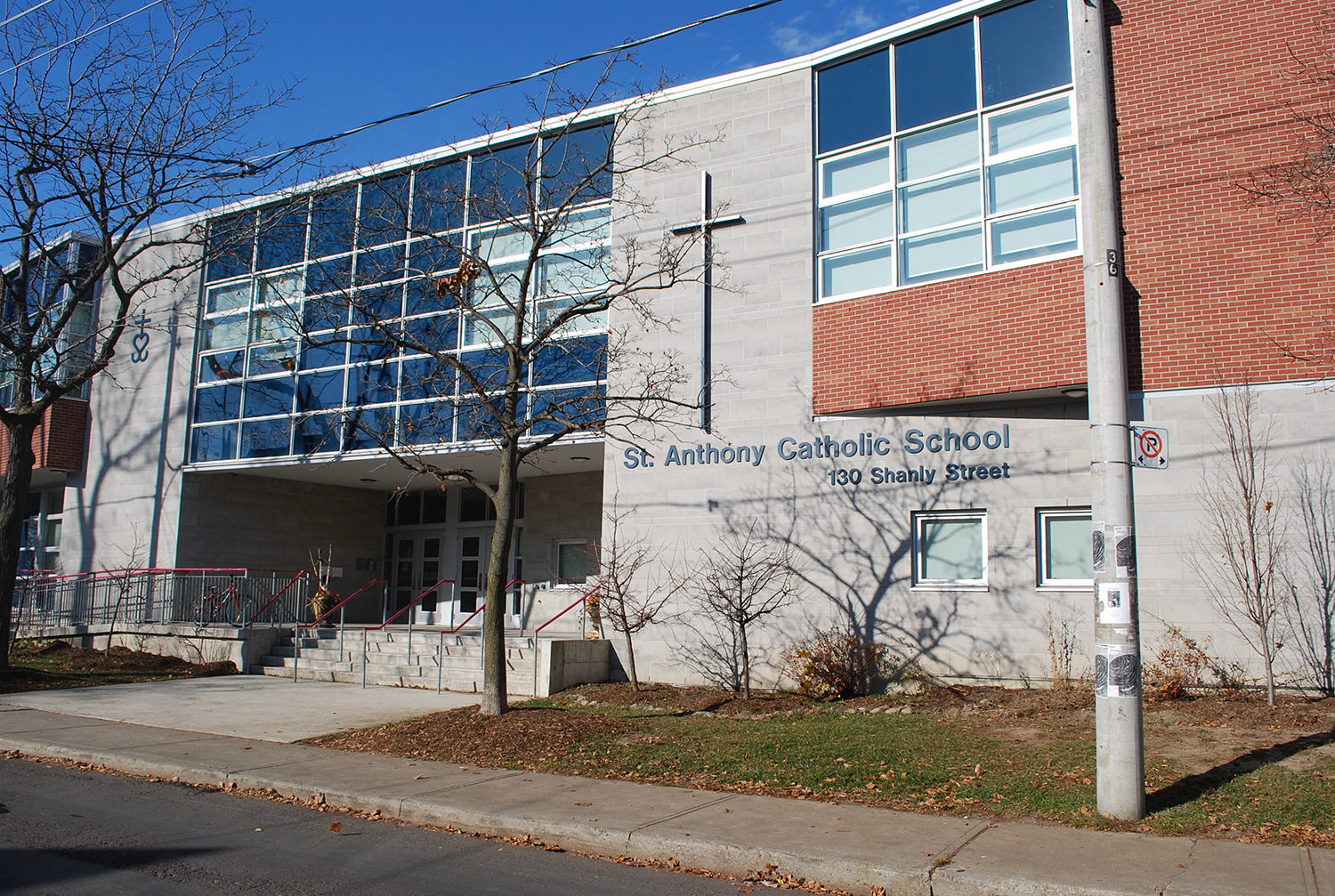 Our School History and Tradition
St. Anthony Catholic School was established by the Sisters of Loretto more than 90 years ago. Over the years, St. Anthony has served the children of various immigrants groups, starting with the Irish and continuing with Italians, Portuguese, Central and South Americans. At present the majority of students are Canadians of Portuguese heritage, plus a smaller number of Canadians whose heritage is Central and South American.
St. Anthony School is named in honour of St. Anthony of Padua. His contact with some Franciscans inspired him to become a Franciscan. He was sent to Italy to preach and teach. He died at the age of 36, and was canonized within the year. St. Anthony Catholic School continues to be proud of its historic past, its academic and athletic excellence, its Christian environment, and its ties with the community and parish. We are very proud of the many outstanding graduates who have contributed to the community, city, country and church since its establishment by the Sister of Loretto.
A newly renovated and expanded facility opened in the spring of 2006.