At St. Jude Catholic School, we pride ourselves on the strong partnership that exists among the home, the school and the parish.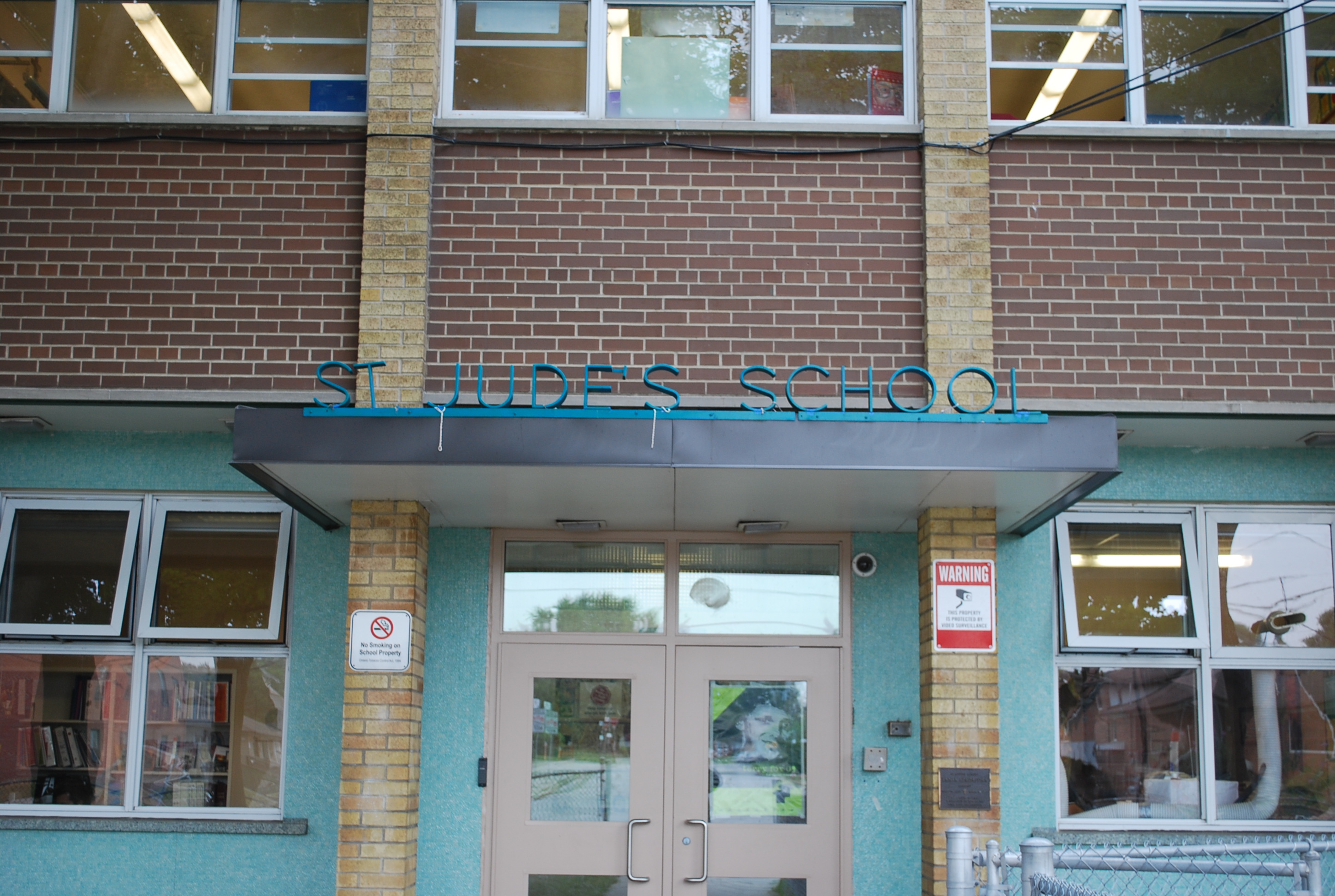 How We Meet the Diverse Needs of Our Students
There are many activities which exemplify the Catholic environment at St. Jude. There are celebrations of community masses and large school masses. Special child-centered masses are planned for smaller groups of students. Parish clergy visit on a regular basis. The prayer life at St. Jude is very active. In terms of visible signs there are many crucifixes, holy pictures and displays acknowledging our good works and commitment to our faith.
St. Jude provides students with a safe and welcoming environment. Codes of behavior and consequences are discussed at divisional assemblies. Students and parents are welcome to discuss their concerns. For example, an anaphylaxis in-service and an establishment of an anaphylaxis protocol have addressed food allergy concerns.
There are many curriculum initiatives. Reverse integration has been introduced to enhance the learning of our exceptional and English as a Second Language students.
Team teaching and team planning are part of the strategies used for program delivery.

Partnering with school librarian will provide opportunities for small group interactions.

A computer plan has been established to focus on computer literacy.

Literacy development will be the focus for the primary division.

Peace education and social skills programs will assist students in developing interpersonal and problem solving skills.
There are many co-curricular activities and programs organized at St. Jude. Students are involved in sports, arts and crafts, drama and music activities. In addition, there is a chess club and a W5H team. All of our students are enrolled in international languages in our extended day programs.
School History and Tradition
St. Jude Catholic School is part of a vibrant parish community. The school was first opened in 1960. By 1964, the school population had grown to such an extent that students attended school in two shifts: the morning shift from 8:00 AM to 12:00 PM and the afternoon shift from 1:00 PM to 5:00 PM. Some students were bussed to other schools while additions were being built. Eventually other schools - St. Jane Frances and St. Simon Catholic Schools - were built to accommodate the growing population in the area. At one time, there were over 1,000 students enrolled at St. Jude. Additions to the school include the gym, library, staff room and the section added beyond the library.
Graduates from St. Jude include federal ministers, professionals, tradespeople and hardworking homemakers and community builders. Many of our students return to express their feelings of love and sense of community.
Our school is dedicated to St. Jude, one of the 12 Apostles. He has been known as the "helper of the hopeless" or the "saint of the impossible". This year, our school commissioned an honour roll. It was installed in October and blessed by Auxiliary Bishop Prendergast S.J. on the occasion of his pastoral visit. Images of St. Jude and St. Francis are part of the honour roll which also includes a prayer to St. Jude and a prayer to St. Francis of Assisi in English, Spanish and Italian - constant reminders that all things are possible with God.