At St. Marguerite Bourgeoys Catholic School, we pride ourselves on the strong partnership that exists among the home, the school and the parish.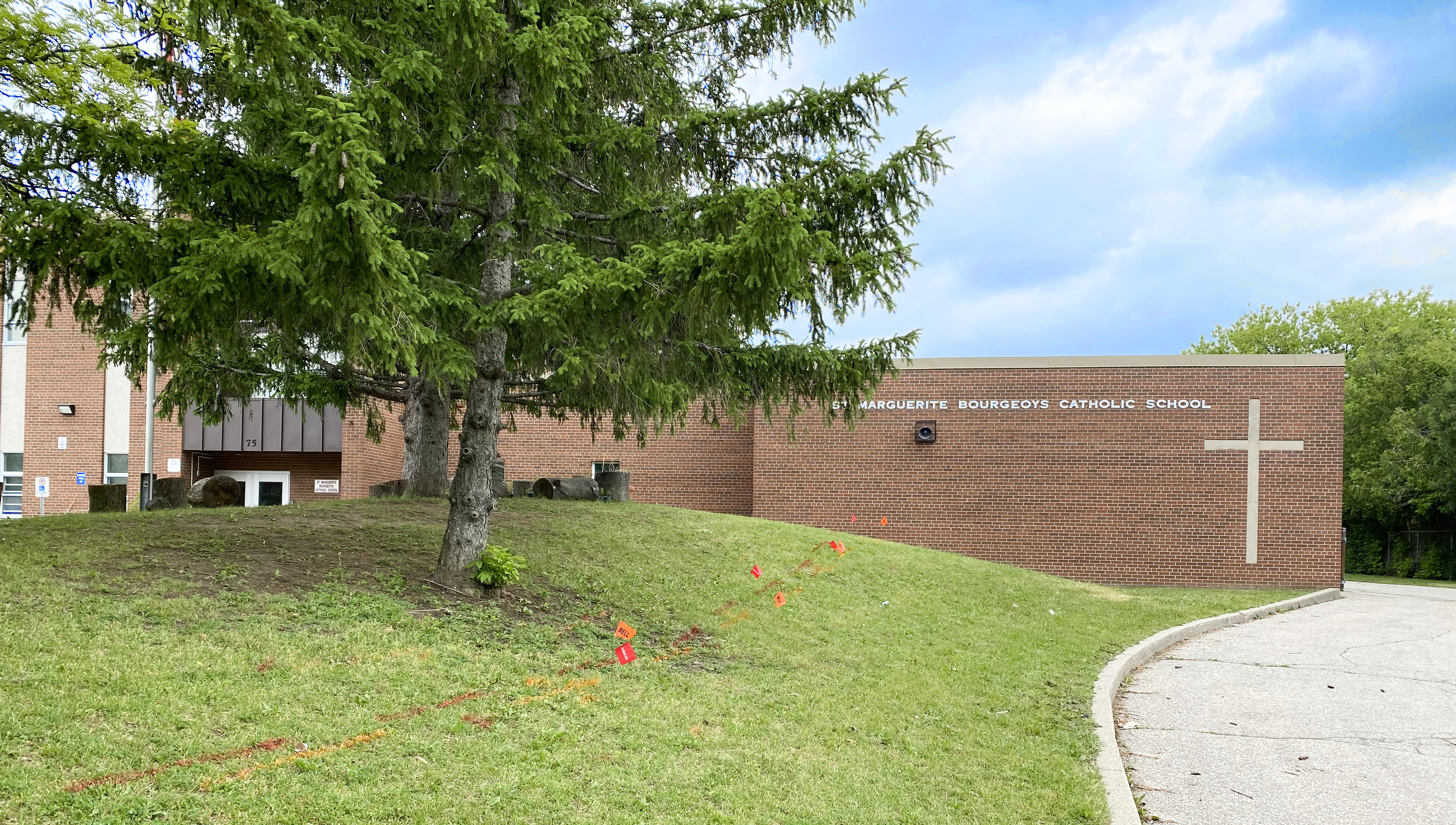 How We Meet the Diverse Needs of Our Students
At St. Marguerite Bourgeoys, we believe that each child deserves to attend school in a safe, inclusive and healthy learning environment. We strive to challenge each child's academic potential and to assist each pupil to grow in the Catholic faith.
Improving Student Learning and Achievement
Teachers utilize a variety of teaching and assessment techniques in order to determine the strengths and needs of learners. Data is examined and used to create best teaching strategies and practices. Teachers belong to and participate actively in a professional learning network in which they have an opportunity to dialogue with other professionals about best practices. At St. Marguerite Bourgeoys, student progress is reported on a regular basis to parents and meetings with parents and other professionals are held to determine how the school can best meet the learning styles of pupils.
The school purchased new materials over time to support the development of literacy and other materials providing information on bullying, such as the Steps to Respect Program. These materials provide the staff with additional information and materials to address learning needs.
The School Learning Plan is reviewed and updated by the staff and the areas of Literacy, Numeracy, Success for All are addressed from Grades Junior Kindergarten to Grade Eight. Scores from standardized tests such at the CAT -3, EQAO, Running Records, CCAT are reviewed along with report card marks. The staff receives on professional development in how to integrate this data into teaching practice.
Nurturing Our Catholic Community
In addition to the catechetical program, the pupils at St. Marguerite Bourgeoys share their time, talents and treasure and become active participants in their faith life through school liturgies, participation in food drives, Sharelife activities and other acts of charity.
The children being confirmed are asked by the parish to complete community service and this is supported at the school level. School staff have a unique opportunity to deepen their faith experience through participation in the Courage To Serve - Canada - Retreat Program.
The creation and maintenance of a safe and welcoming environment is a critical and important aspect of school life. Daily attendance is monitored, recorded and communicated to parents. Parents and guardians must sign pupils in and out of the school for appointments. The visitor policy is enforced at all times. Pupils practice fire drills and lockdown procedures as required by the school board. The school has a Safe SchoolsTeam consisting of staff, parents and pupils and each month a characteristic (e.g., Empathy, Kindness, Fairness) is highlighted, discussed and acknowledged.
Pupils are strongly encouraged to wear the school uniform which was initiated in 2004.
Extracurricular programs include badminton, choir, volleyball, soccer, track and field, cross country, W5H and more. Participation in these activities are encouraged and supported. St. Marguerite Bourgeoys has a very dynamic Health Action Team consisting of staff, pupils and the public health nurse.
​School History and Tradition
St. Marguerite Bourgeoys Catholic School was officially opened in 1976. The school is dedicated to St. Marguerite Bourgeoys, who was born in Troyes, France on April 17, 1620. In 1653 she arrived in Ville Marie as a missionary. She taught and guided colonists while waiting to open her first school. Marguerite Bourgeoys was given a stone stable to use as a school and dwelling in her mission to instruct others.
Marguerite Bourgeoys strongly believed in Christian education with the school and family participating and she also believed that both males and females should have an equal opportunity for education. She founded a non-cloistered community named the Congregation of Notre Dame. On October 31, 1982 Pope John Paul 11 proclaimed her a saint - the first woman in Canada to be canonized.
St. Marguerite Bourgeoys School enjoys a wealth of cultural diversities with families enrolled from many parts of the world.