Holy Rosary Catholic School is an inclusive learning community rooted in the love of Christ. We educate students to grow in grace and knowledge and to lead lives of faith, hope and charity, with respect for themselves and the world around them. At Holy Rosary Catholic School, we transform the world through witness, faith, innovation and action.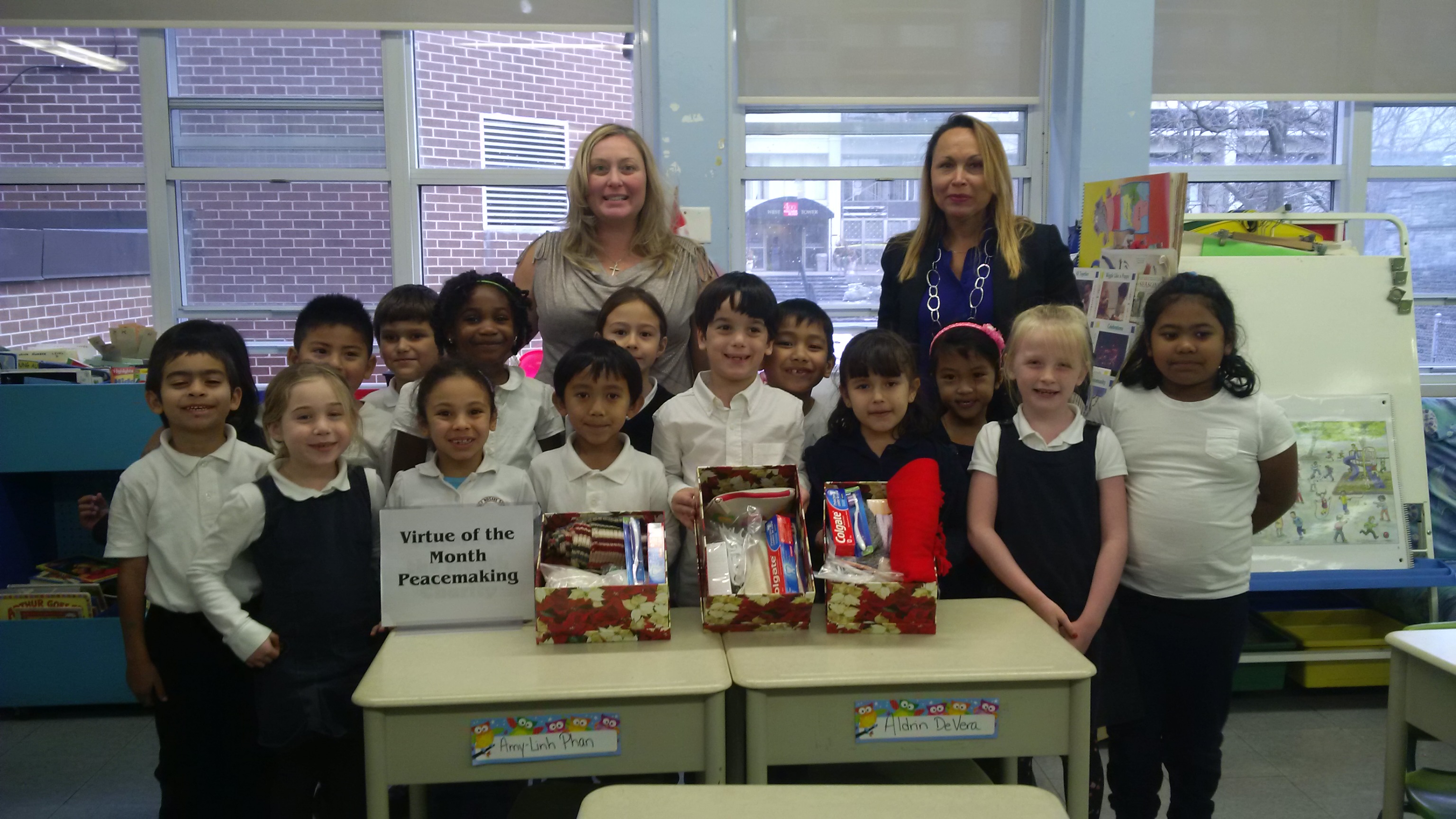 Grade 1 students Participating in the Shoebox Project​​
We at Holy Rosary Catholic School believe...
In the worth and dignity of every person.

In the critical role that our Catholic schools play in promoting Gospel values, social justice, environmental responsibility, human solidarity and the common good.

That high standards and expectations foster greater achievement.

That people thrive in a safe, healthy and compassionate environment.

That teaching is responsive to individual needs.

That teaching and learning should be rooted in research and evidence.

That each of us shares responsibility for creating collaborative communities of learning.

That equity, diversity, accessibility and inclusivity are integral to the Catholic community.

That the 21st century fluencies of digital literacy, creativity, innovation and collaboration are essential.
How We Meet The Diverse Needs Of Our Students
Holy Rosary Catholic School contributes to the formation of our children in their faith life. In partnership with the home and parish, our students grow in knowledge of prayer, scripture and Catholic teaching.
The following initiatives and activities represent some of the ways we intend to serve our local Catholic school community:
Partnership with parents and the local Catholic School Advisory Council

Liturgical celebrations are held at Holy Rosary Parish throughout the year as well as in the school

French Immersion beginning in Junior Kindergarten

Sacramental preparation for Reconciliation, First Communion & Confirmation​

Faith in action by raising Global Awareness (charitable activities such as: Penny Drive, Halloween Candy Drive, Lenten Gifts, Angel Foundation)

Student Council

Locally based and City Excursions are offered to all grades

Outdoor Education and city trips, such as Teen Ranch, Mansfield, Ottawa, Montreal, Quebec City, Camp Olympia

School performances

Athletics

Vocal & Band programs

Intermediate and Junior W5H

Intramural sports activities

Partnerships with community groups to offer school performances, Dance workshops, Drama workshops, Karate demos, Lego program, etc

Participation in Junior Achievement, The Learning Partnership, Prime Mentors