Monsignor John Corrigan Catholic School opened in north Etobicoke on January 3, 1984. Its official opening and blessing was held on May 9, 1984. The school was named after Monsignor John Corrigan, a holy and dedicated priest who worked in the Toronto and surrounding dioceses for almost 60 years.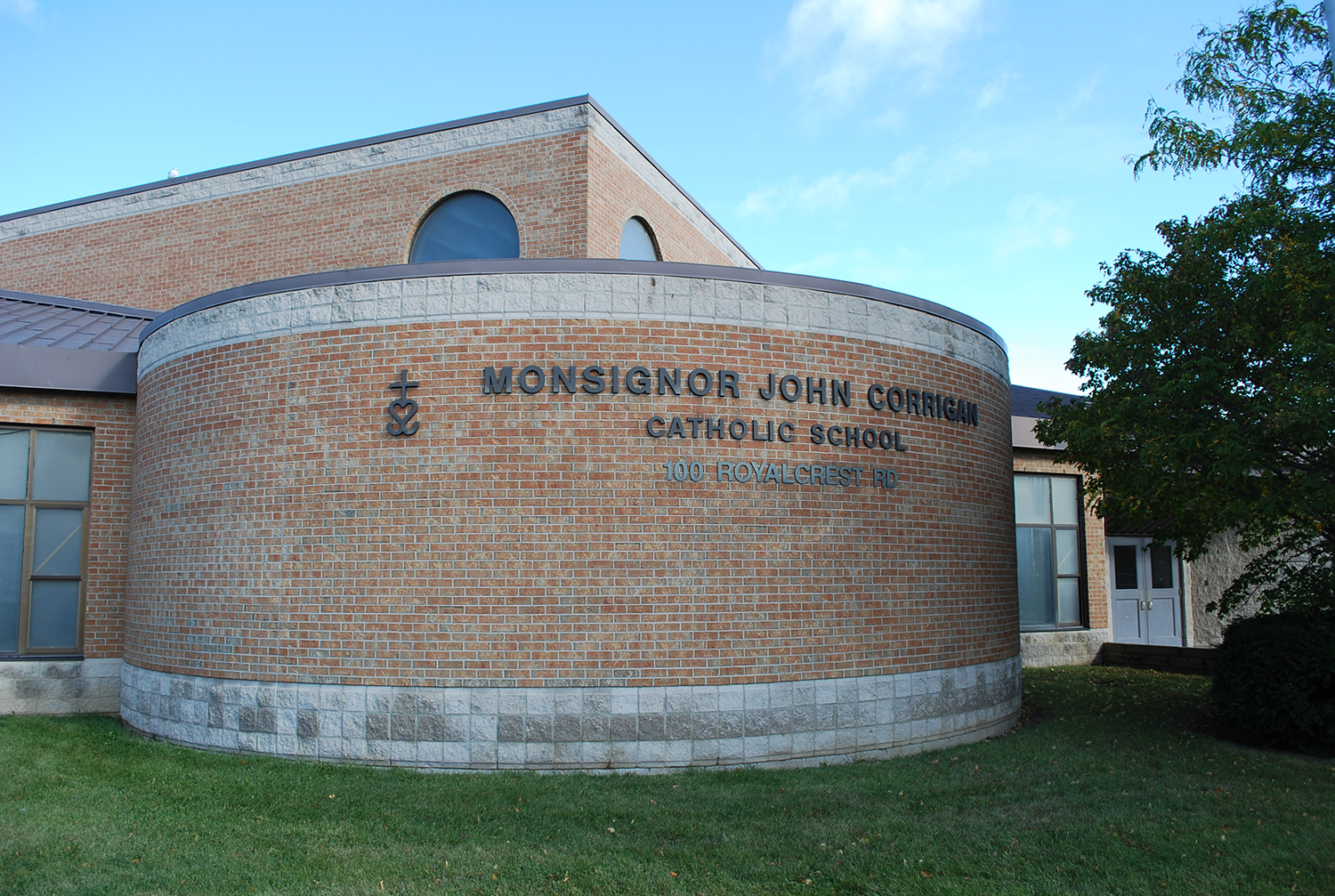 How We Meet the Diverse Needs of Our Students
Our students come from many parts of the world, enriching our lives with their varied cultures, foods experience. Although we appreciate these enriching elements, we try to focus on the similarities of the Catholic people. We address this by beginning each and every day with a Bible reading which either relates to the theme or event for the day, or because it is associated with the saint that is honoured on the day. The reading is always followed by one or two thought-provoking questions based on the reading which apply to our day-to-day interactions with others. Special people, events and saints are highlighted with an explanation of their importance and/or contributions to the Catholic community. Children from each class take turns participating in the morning exercises with their own special prayers.
We foster a safe and welcoming environment, both at school and in the community. As well as our teachers on duty, our peacemakers' program, where students come to the help of others as mediators and peacemakers, contributes a great deal to how safe and welcoming our school community is.
Over the years, we have developed a code of behaviour which clearly outlines expectations as to what is acceptable and what is inappropriate, and the consequences of these. There are guidelines for absences and lates, for lunch, for dress, for requirements for pupils as outlined by the Education Act, and guidelines for discipline or consequences for pupils whose infractions need to be addressed.
A safe arrival program is another manifestation of how we provide a safe and welcoming environment. Attendance is taken twice daily, immediately following the opening exercises each morning or afternoon to ensure that all children are safe and under adult supervision. If parents cannot be reached at home, they are contacted at their workplace to ascertain the reason for absence. We encourage parents to always contact the school when their children are going to be away.
The general congruence of programs with Ministry of Education and Board guidelines is demonstrated in teachers' long-range and daily plans. The teaching/learning strategies designed to meet the individual needs of pupils and exceptional students are varied to ensure success. Much reassurance is given to those students who show signs of insecurity.
Children are rewarded with a multitude of things depending on what works best for each child - these vary from "stickers", to "activity" time, to "helping" others - students or teachers, etc. Students are given more responsibilities such as office helpers, monitors, prayer leaders, etc. as acknowledgment of their efforts and needs.
Teachers work together to modify programs for those students who need modifications, whether they be gifted or developmentally delayed. Pupil education plans outline specific modifications and strategies to ensure students' success.
Curriculum initiatives are a direct result of a desire to accommodate students learning needs. They are the focus when modifications are made. The provincial standards will be used to determine the level of success.
Monsignor John Corrigan is a small school. We take pride in the many opportunities provided to our students in the co-curricular and extra-curricular areas. Many guest speakers and presenters have been invited to further our students' knowledge of black history, conservation, care of pets and rabies prevention, importance of peace, drug awareness, community service, art, etc.
Many of our students are provided with opportunities to further develop skills in areas such as chess, music, W5H, soccer, volleyball, basketball, track and field and art.
Other activities such as Christmas and spring concerts, readings for liturgies and paraliturgies, drama and so on, also provide opportunities for individual students to excel.