At St. Jerome Catholic School, we pride ourselves on the strong partnership that exists among the home, the school and the parish.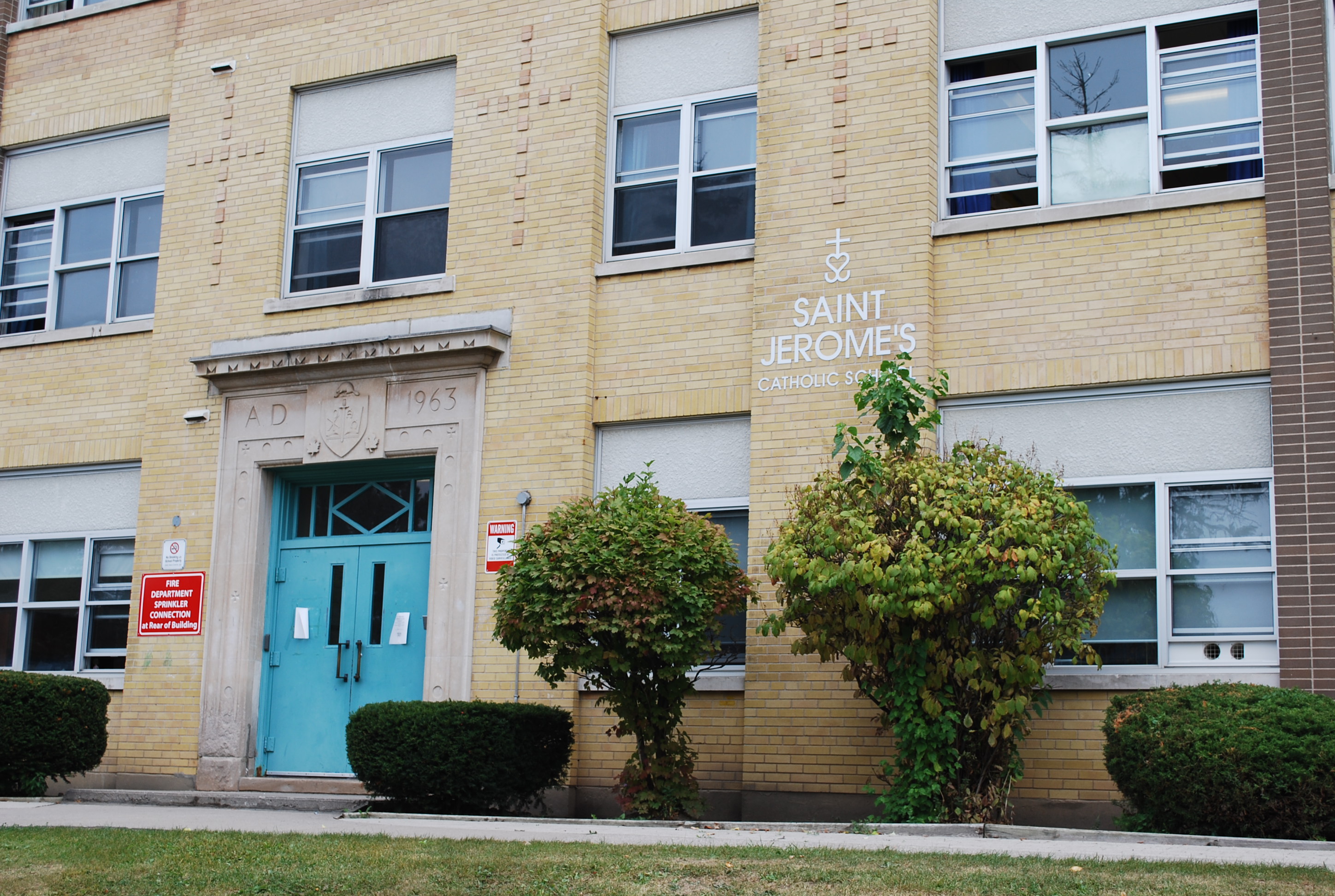 How We Meet the Diverse Needs of Our Students
The nurturing of a Catholic environment is clearly evident at St. Jerome. The community, school and church work hand in hand to provide a safe and welcoming environment in which we strive to meet the various needs of our students. In addition to the religion program set out by the board, a student prepared mass is celebrated each month. In cooperation with the parish and the family, the students are prepared for the sacraments of reconciliation, first communion and confirmation. Christian and moral values are a way of life at St. Jerome, from the high standards set in the classroom. The work of the Liturgical team is central to school operations.
Student safety is a priority at St Jerome. A student safe arrival program is in effect. The school site is fully secured with entry via a buzzer system that is fully monitored. The sign in procedure of the Safe Schools Act is in place. All volunteers are screened and must provide a police criminal reference check. All program providers must be affiliated with OESC (Ontario Educational Services Corporation). The Toronto Police Services speak to our students on various topics.
Meeting the academic needs of the students is the focus of staff development. All teachers receive extensive curriculum in services at the board level and at the local school level. On staff, we have lead teachers for the following areas: Early Reading Strategy, Junior Literacy, Balanced Literacy, Junior Math Strategies and Early Math Strategies. At divisional meetings and staff meetings, teachers assess data (from Cat 4, CCAT, and EQAO) and make school improvement plans based on gap analysis of performance indicators. Teachers enhance in class learning with planned field trips that consolidate curriculum goals.
Our school-based support team coordinator and special education consultant works closely with teachers, parents and support services to address needs of the special needs students. Classroom teachers provide accommodations and modify their programs in relation to contents, student activities and assessment and evaluation strategies to meet the individual needs of the students. This is often done in collaboration with special services such as Dellcrest Children's Center, public health nurse, speech therapist, audiometricians, social worker, guidance counsellor, consultants, gifted program, special education teachers, ESL (English as a Second Language) teacher. St Jerome is the professional development center for The Hospital for Sick Children LDRP (learning disabilities research program).Teachers from elementary and secondary panels receive training in this program from our Incremental Special education teacher. St Jerome Special Education teachers have been trained in this program and run groups for our students.
The TCDSB Success for All initiative provides a boost to students achieving below academic expectations in the Grade 6, 7 and 8 level. Special Education and Intermediate teachers have been instrumental in providing Pathways to Success programs, HSC Phast Paces programming and Soar to Success programming to address needs in this area. St. Jerome Intermediate staff is affiliated with the St Wilfrid Guidance professional Learning Centre, through which additional opportunities are created to facilitate transition of Intermediate students to Secondary Schools. To this end, partnering projects occur between the secondary schools and St. Jerome, with students attending art, math and career workshops at the local high schools.
Each student is a unique individual with a particular style of learning. Computer access provides teachers with another resource that will allow the student to learn at his own pace. The availability of computers in each classroom and the computer lab allows teachers to provide students with a wide range of different learning opportunities allowing each student to reach the expected outcomes. Computer in-services are provided for all staff members by on-staff Information technology lead teachers. There is a Technology team at St Jerome comprised of teachers skilled in this area. Using LCD projectors and SMART Boards, taking part in on line interactive learning and teleconferencing are some of the areas in which this team excels and provide IT supports to other staff member for the purpose of teaching our students in varied and interesting formats.
As well as meeting the academic needs of the students, the school encourages active participation in a variety of activities. These activities are designed to meet the diversified interests and abilities of our school population. Each student has numerous opportunities to meet with success and work towards a goal of individual growth. These opportunities include: chess clubs, community arts workshops, W5H, Junior and Intermediate sports tournaments, track and field, cross-country, choir, instrumental ensembles and bands, vocal music and international languages.
St. Jerome CS places a high priority on healthy living. Specialized staff, Public Health nurses, student and parent representatives comprise the Health Action Team. The Health Action Team organizes the yearly Terry Fox Run, Laps for Lungs event, daily vigorous activity, as well as, public announcements on nutritious eating and exercise. The walk for Heart event in the spring and cross country running training are further examples of HAT's commitment to student health.