We Envision Students Who:
Are formed in Catholic Faith.

Apply Christian values to life's opportunities, challenges and choices.

Display self-esteem and self-respect.

Strive to be the best they can be.

Demonstrate skills for nurturing a healthy family life.

Demonstrate global perspectives and community responsibility.

Demonstrate relevant knowledge and ability.
Our Lady of Perpetual Help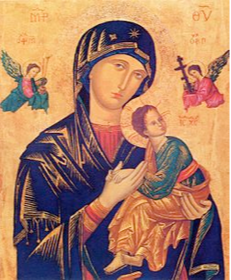 Our Lady of Perpetual Help is a Byzantine icon from the late middle ages and has resided in Rome since the late 1400s.

The image depicts the Blessed Virgin Mary wearing a blue mantle and veil. On the left side is the Archangel Michael, carrying the lance and sponge of the crucifixion of Jesus. On the right is the Archangel Gabriel carrying the cross and nails. The Christ child rests in her arms and looks intently at the cross.

Tradition states that the icon memorializes an occasion in which the young Christ awoke from a dream in which He saw the instruments of His passion. Mary comforted Him, but remained solemn since she knew that the dream was a portent of her Son's future passion. The icon brilliantly captures both the reality of the incarnation and the reality of the crucification of Christ in one single image that mystically links the events to Mary – who was present for each.