St. Joan of Arc Catholic Academy (formerly Jean Vanier Catholic Secondary School) opened in September 1989, welcoming 18 staff and 198 grade 9 students. With additional construction and renovation, the school now accommodates close to 900 students.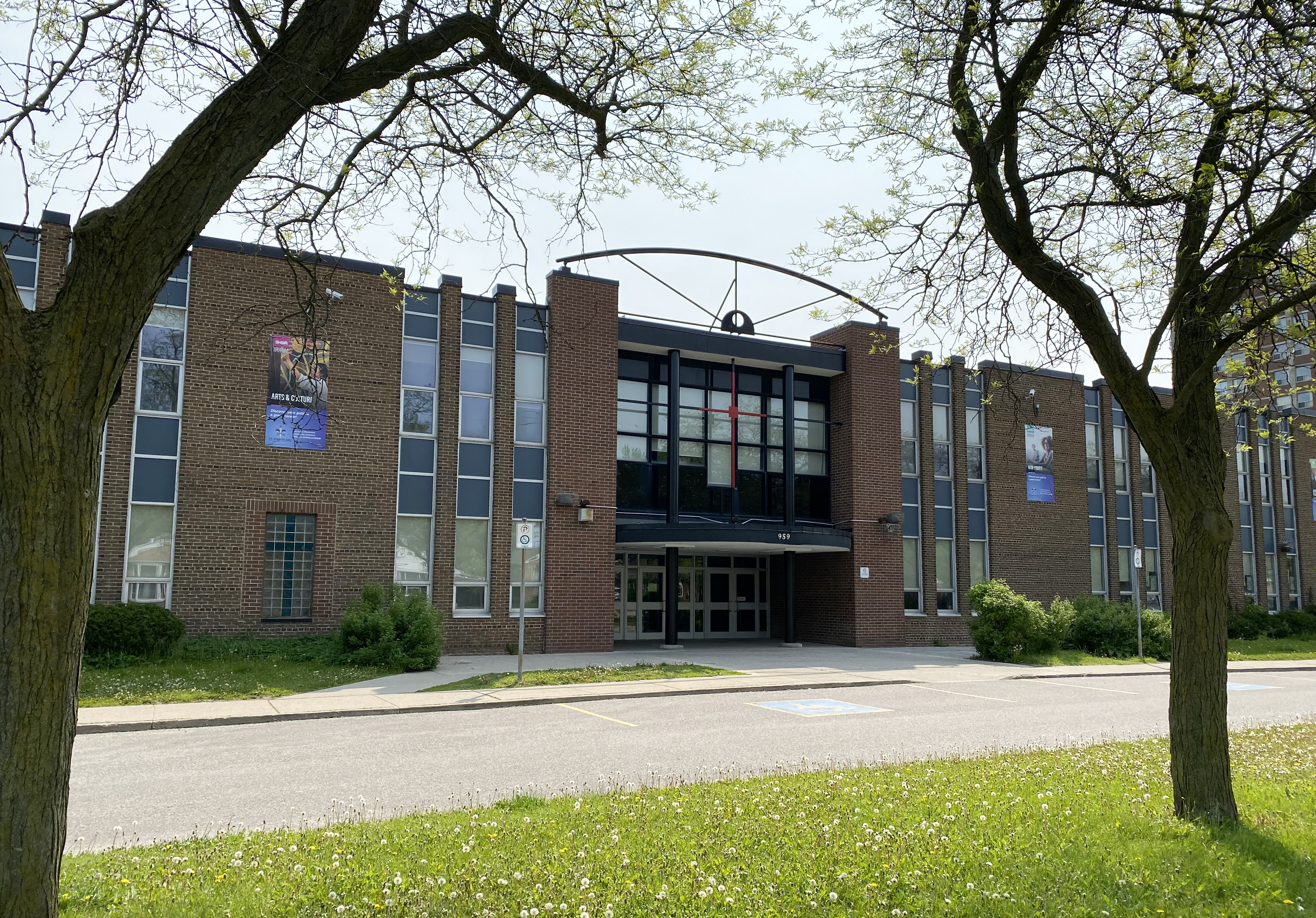 Meeting the Diverse Needs of Our Students
St. Joan of Arc Catholic Academy community is oriented towards a way of life defined by the Gospel. Our staff and the parents share the mission of guiding our students to develop a knowledge of our Catholic faith while pursuing an education that will prepare our students for adulthood. All of our courses are infused with Gospel values.
The strategies and programs we use to ensure this Christian environment are varied. Mass is celebrated twice per week in our chapel. At special times of the year, we travel to St. Maria Goretti Church for Thanksgiving, Christmas, Easter, an end-of-year mass and a special mass for our graduates of the particular school year. Students are expected to participate in these celebrations. Parents are invited to attend. In addition, there are opportunities for public prayer, reconciliation, retreats and almsgiving.
The entire St. Joan of Arc community enjoys a comfortable and safe environment for learning. To achieve this, the school operates on the premise that each person has great dignity and deserves the highest respect. We have a code of student behaviour that is clearly defined and is reviewed annually. Students are aware of what is expected of them of the consequences for failure to live up to these expectations. All of our regulations are designed to ensure that respect for the rights of other students is maintained.
Our extra-curricular programs play a significant part in our students' education. Sports teams, clubs, field trips and socializing make school enjoyable and result in a positive attitude toward school life. In these activities our young people often discover hidden talents and interests.
Our curriculum initiatives are broad based, intending to serve the various needs of our pupils. We offer all of the compulsory credits but also offer a very wide range of optional programs in the areas of The Arts, Technology, and Athletics. In addition to the courses which students can select, the staff select students to be part of our annual Leadership Program. With respect to identified students, we feel that this broad curriculum assists these students to be successful and we offer enrichment and modification of the curriculum by the staff as a regular occurrence in meeting the diversified needs of our students.
Sharing with the Community
Our students practice an active, faith life through service to the community. The education component is learned through religion classes, regular school practices and special initiatives such as our association with Development and Peace.
We support the community through activities such as:
Thanksgiving food drive for the Good Shepherd Refuge

Christmas Baskets for families through St. Vincent de Paul Society

Fair Trade Coffee Sales

The Best Buddies Program
We donate volunteer time, food and money to organizations such as Development and Peace, Nelson Mandela Children's Fund (Canada), Share Life – Covenant House, Inner City Angels, Raising the Roof, Help a Family Fundraiser (a school and orphanage in Puerto Plata, Dominican Republic), St. John the Compassionate Mission, Mothers Against Drunk Driving (MADD), The Royal Canadian Legion Poppy Day Sales, The Louise Russo Fund, Right to Life, and L'Arche Daybreak (Richmond Hill, ON).