At St. John the Evangelist Catholic School, our mission is to give our students the opportunity to grow to their fullest potential. We will work as a school community to encourage a positive learning environment in the context of a faith-based curriculum. It is all about nurturing student growth, and the need to help our children develop into the people that God wants them to be. It is about providing a standard that ensures positive growth academically, socially and spiritually. This has been, and continues to be, the ongoing practice at St. John the Evangelist Catholic School.
How We Meet the Diverse Needs of Our Students
At St. John the Evangelist Catholic School, we focus on four important areas of student development:
Faith Development: Faith Development is rooted in the Toronto Catholic District School Board (TCDSB) Virtues, our Graduate Expectations, and the TCDSB Pastoral Plan. Classes are also invited to visit St. John the Evangelist Catholic Church to take part in school Masses and/or Liturgies.


Academic Development: In the area of Academic Development, all staff follow the Ministry of Education curriculum documents for their grade level. Special Education and English as a Second Language (ESL) are all programs offered at our school. All programs provided at St. John the Evangelist are in accordance with the Ministry of Education and the TCDSB guidelines. Additional programs include French as a Second Language (Grades 1 to 8), Vocal music (Junior Kindergarten to Grade 6), and Instrumental Music (Grades 7 and 8).


Social Development: As part of Social Development, we strive to create a school where all students, staff, parents and visitors to our school feel safe, included, and welcomed. Our ideas are centered in our Student Code of Conduct which has as its central point: "Remember that God is inside everyone and live my life at home and school in a way that shows this". We are involved in many charitable events including food drives, Sharelife, The Angel Foundation for Learning (AFL), and other initiatives where we strive to raise funds to support those in need.


Extracurricular Development: There are many extracurricular programs offered at St. John the Evangelist Catholic School. Students can take part in a wide variety of activities including soccer, volleyball, basketball, running club, cross country, track and field, chess club, knitting club, choir, and more.
We consider ourselves fortunate to have the opportunity to teach the children entrusted in our care and we encourage constant open communication between home, school, and church. We are privileged and blessed to have Catholic Education for our children.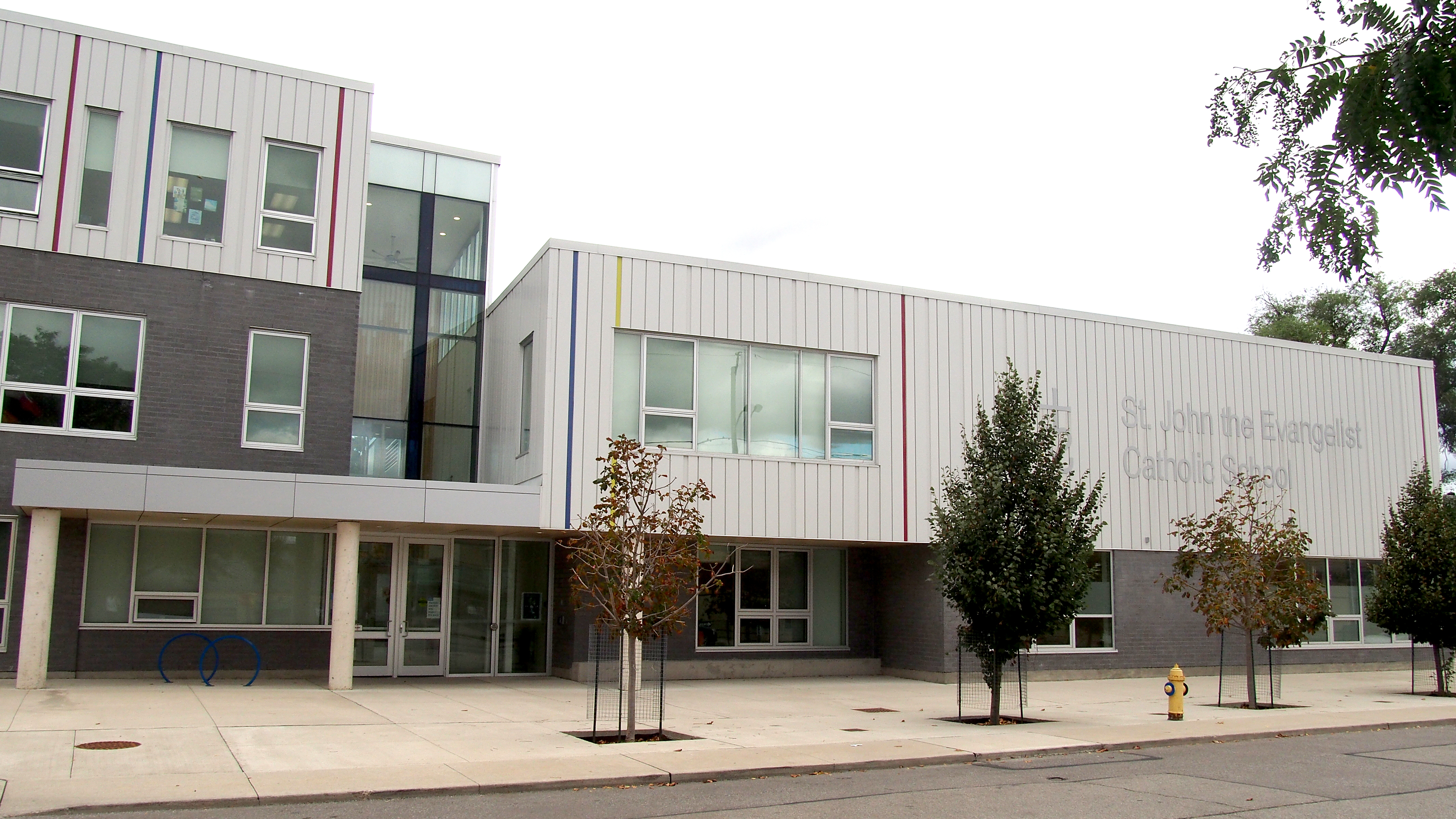 School History and Tradition
St. John the Evangelist Catholic School has its roots in Weston dating back to 1853. Under the guidance of the Basilian Fathers, the congregation grew, thus resulting in a need for Catholic instruction. As early as 1856, Catholic children received instruction in the church sacristy which became the first "school". It was not until 1921 that a four-room modern school replaced the "school house".
The Loretto Sisters' (IBVM) dedication to teaching enabled St. John the Evangelist Catholic School to flourish and grow. The Faithful Companions of Jesus guided our school from 1951 through to the 1980s. Sister Eleanor was the last principal affiliated with a religious order.
At St. John the Evangelist Catholic School, it is our goal to help our students increase in their faith development as they move toward achieving the Catholic Graduate expectations.