Catholic Education Week (CEW) is April 30 - May 5, 2023. The theme for this year is "We Are Many, We Are One".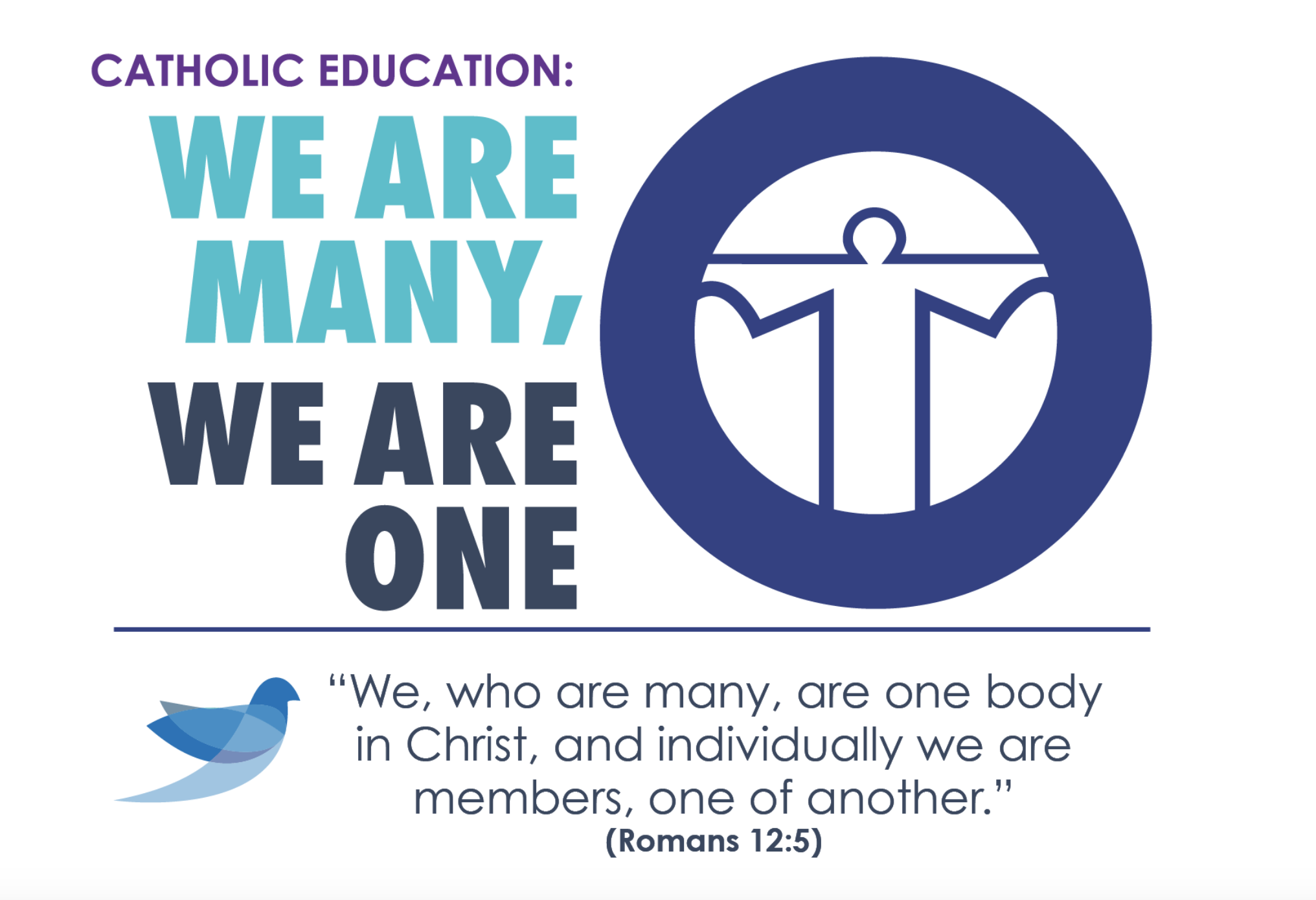 Nous qui sommes plusieurs, nous sommes un seul corps dans le Christ, et membres les uns des autres.
   (Romains 12,5)
Prayer for Catholic Education Week
English | Prayer for CEW 2023
We are many, we are one; we all form one body in Christ.
Lord, when we see the one before us, let us reverence your presence within;
when we listen to one another, let us hear with our hearts;
when we reflect on each encounter, may we discern to understand;
when we learn from those around us, let us respect our differences with joy;
and when we act, may we be kind and generous to all,
for each person is a member of your body, with all that they are.
We are many, we are one.
Amen.
French | Prière pour la SEC 2023
À plusieurs, nous sommes un; dans le Christ, nous ne formons qu'un seul Corps.
Seigneur,
lorsque nous voyons l'autre devant nous,
puissions-nous reconnaître ta présence qui l'habite;
lorsque nous nous écoutons les uns les autres,
que nous entendions avec le coeur;
lorsque nous réfléchissons à chaque rencontre,
puissions-nous discerner pour comprendre;
lorsque nous apprenons des personnes qui nous entourent,
puissions-nous respecter nos différences avec joie;
et lorsque nous agissons,
que nous soyons bienveillants et généreux envers tous,
car chaque personne est membre de ton Corps avec tout ce qu'elle est.
À plusieurs, nous sommes un.
Amen.
Scripture Quotes for the Five Sub-Themes of CEW
Monday: When We See
"Blessed are the Pure in Heart for they will see God." Matthew 5:8
Tuesday: When We Listen
" Be quick to listen and slow to speak." James 1:19
Wednesday: When We Reflect
"Reflect on the Statutes of the Lord" Sirach 6:27
Thursday: When We Learn
"Let the wise also hear and gain in learning, and the discerning acquire skill." Proverbs 1:5
Friday: When We Act
"Little children, let us love, not in word or speech, but in truth and action ." 1 John 3:18
To access the advance kits that offer elementary and secondary resources (e.g. monthly prayer services, music, lesson plans, visuals, etc.) please visit the OCSTA Catholic Education Week Resources website.
Note: Resources are available in both English and French.