Year 2 - With Hearts of Kindness and Love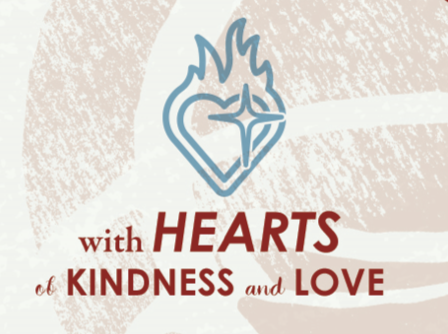 As we move into the second year of our board pastoral plan, we anticipate Walking with Christ, with Hearts of Kindness and Love.
Throughout the Gospel stories, Jesus role-modeled what it means to love with compassion, kindness, courage, and hope. He healed and served those who were marginalized, challenged those who felt they "owned" the truth, and called everyone to conversion in the way they lived their lives.
Acting sincerely with hearts of kindness and love requires a giving of ourselves, in big or small ways – whether it is our time, presence, finances, prayers, or actions – we can give generously. Our heart of kindness can draw on the love of Christ that lies deep within us, knowing we are truly beloved.
When we center ourselves in God's love, are we not inspired by gratitude and the desire to share this joy with others? From this, our hearts of kindness and love can flow freely into a beautiful shaping of our community – one that honours the dignity of all persons and proclaims the "kingdom of God" in the here and now.
May our journey of Walking with Christ, with Hearts of Kindness and Love, engender patience, peace, an openness to listening, meaningful dialogue, reconciliation, trust, and generosity in giving. On this journey may we be nurtured with prayer, reflection, and quality time with God!
Schools Celebrating with Hearts of Kindness and Love
Explore how some of our schools support and celebrate the second year of our Pastoral Plan:
Access our Year 2 resources: