National Day for Truth and Reconciliation
National Day for Truth and Reconciliation is observed on September 30 and is a legacy of the St. Joseph Mission (SJM) residential school commemoration event held in Williams Lake, BC, Canada, in the spring of 2013.
It grew out of Phyllis' story of having her shiny new orange shirt taken away on her first day of school at the Mission, and it has become an opportunity to keep the discussion on all aspects of residential schools happening annually.
The date was chosen because it is the time of year in which children were taken from their homes to residential schools. It also gives teachers time to plan events that will include children, as we want to ensure that we are passing the story and learning on to the next generations.
We are including a resource package to assist with teaching and learning about residential schools. We encourage schools to engage in learning as appropriate to the age and readiness of students.
We hope that this learning will also support the themes of anti-racism, anti-bullying, and most importantly foster a sense of belonging and inclusion rooted in the belief that we are created in the image and likeness of a loving God, we are essentially brothers and sisters with our Catholic values.​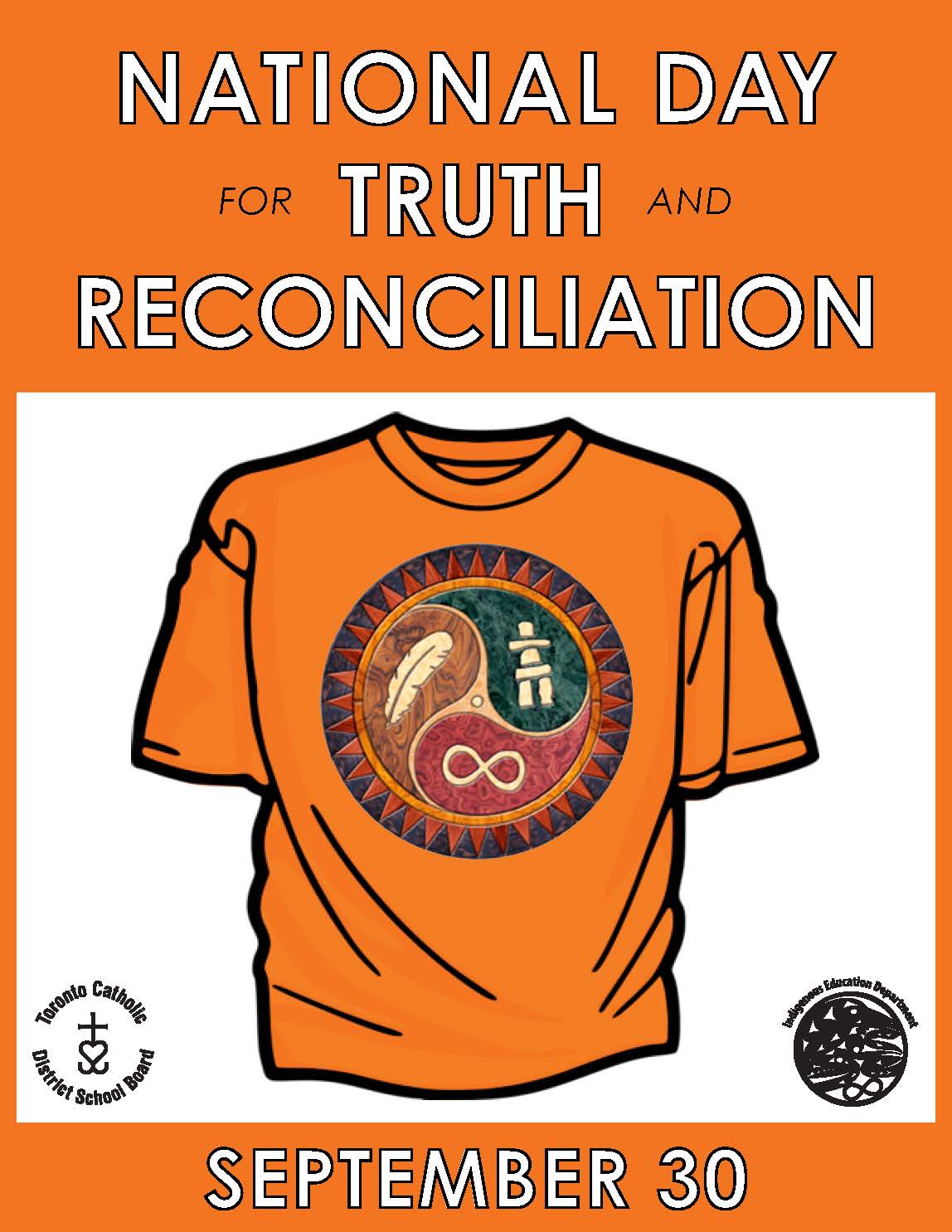 Calls to Action and Resources
Toronto Catholic District School Board (TCDSB) Schools: Calls to Action

​National Centre for Truth and Reconciliation Archives:
We would be happy to provide further assistance as needed. Please contact the Toronto Catholic District School Board's Indigenous Education Department:
Frank Pio
Indigenous Education Central Resource Teacher
Toronto Catholic District School Board
Indigenous Education Department​
Email: frank.pio@tcdsb.org​
Phone: 416-222-8282 ext. 2231
C/O Equity, Diversity, and Indigenous Education
80 Sheppard Ave. East
Toronto, ON M2N 6E8​​​​​​​​​​​​​​​​​
Resources For National Day For Truth and Reconciliation